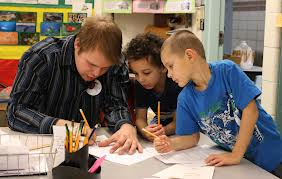 All children have the right to grow and develop to their full potential.  Although eliminating the need for our services by raising healthy children is our ultimate goal, providing help and healing to those who have had their hearts and spirits broken due to abuse and neglect is a critical component to strengthening our community and making life better for those children.
Cray's programming serves children and youth who are neglected, abused, delinquent, have a mental health diagnosis, fail to comply with public school expectations, and those whose circumstances place them at-risk for developing these behaviors.  We also work with parents whose children are at-risk for out-of-home placement or are working on reintegrating a child back into the home.  In addition to a wide portfolio of educational, therapeutic, and treatment programs, Cray administers a youth residential living facility.  Through these services, Cray has helped thousands of kids in our community see life differently.
In 2013, Cray served 562 children in Lawrence County!