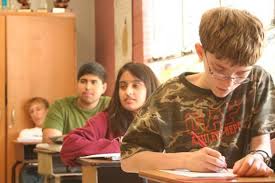 The Compass Program is a partnership with the New Castle Area School District to serve students who need extra emotional support in the classroom.  These students tend to deal with more challenges than the average student and Compass staff patiently work to meet the individual needs of each child.  The goal of the Compass Program is to provide a safe, structured, and nurturing environment which allows students the opportunity to flourish both academically and personally.
The Compass staff includes: a  Head Curriculum Teacher, a Special Education Teacher, a Masters Level Therapist, and a Paraprofessional.  This classroom offers quality education in the following subject areas: English, Math, Science, History, Social Skills, Physical Education/Teambuilding, Art, Health, Computers, along with Community Service Outreach Projects.  The Compass classroom motto is short, but sincere: "We Care!"
The Compass Program is located at the Cray Education Center and students who are enrolled are referred through the New Castle School District.
Director of Educational Services: Don Kemerer
111 East Maitland Lane, New Castle, PA 16105
724-654-8422